Our Doctors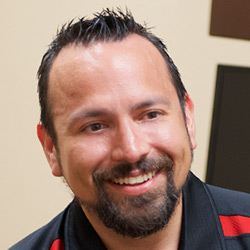 Edgar C. Aguilar, O.D.
Dr. Aguilar, President and CEO of Advanced Eye Care, was born and raised in the Imperial Valley. He earned a Bachelor's Degree in Neurobiology, Physiology and Behavioral Sciences from U.C. Davis before going on to the New England College of Optometry in Boston, Mass. where he graduated with honors. He has also been on mission trips to Nicaragua and Tijuana.
Dr. Aguilar, a glaucoma certified optometrist, is an expert in his field when it comes to ocular disease, hard-to-fit contact lenses, laser vision correction and pediatrics. He is also an affiliate doctor of the Los Angeles Chargers, on the advisory board of NVISION Laser Eye Center in La Jolla, Past President of the Imperial Valley Optometric Society, and an active member of Rotary and Imperial Chamber of Commerce.
Dr. Aguilar is a loyal Boston Red Sox fan who enjoys CrossFit. He and his wife Catherine, have two daughters Caitlyn and Amelia. He is fluent in Spanish.